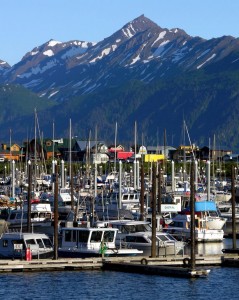 This past trip to Alaska, I got to try something I had never tried before. Fried halibut. Our team had stopped in at the Caribou Family Restaurant in Homer Alaska. Homer, for anyone who does not know, is known as the Halibut Fishing Capital of the World. These fine folks know how to cook and how to eat Halibut. I had an awesome dish of fried halibut. It was great!
Fast forward two weeks…I am traveling on business in Indianapolis, a city I love to visit. My boss and I went out for seafood to a restaurant which shall remain nameless. It is an awesome place for seafood, but what happened next made me laugh.
I was looking over the menu and found Fresh Alaskan Halibut. The waitress stopped by and explained that all seafood was flown in fresh daily from all over the world. While this did explain the cost, I was ready to sink my teeth into some more fresh Alaskan Halibut.
The menu said, Broiled or Grilled. I said to the waitress, may I get it deep-fried? It was a perfectly innocent question. She looked at me with that look. You know the one…she was thinking I obviously was not from around here. She said she needed to ask the chef.