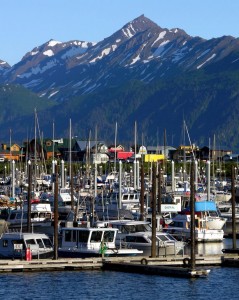 This past trip to Alaska, I got to try something I had never tried before. Fried halibut. Our team had stopped in at the Caribou Family Restaurant in Homer Alaska. Homer, for anyone who does not know, is known as the Halibut Fishing Capital of the World. These fine folks know how to cook and how to eat Halibut. I had an awesome dish of fried halibut. It was great!
Fast forward two weeks…I am traveling on business in Indianapolis, a city I love to visit. My boss and I went out for seafood to a restaurant which shall remain nameless. It is an awesome place for seafood, but what happened next made me laugh.
I was looking over the menu and found Fresh Alaskan Halibut. The waitress stopped by and explained that all seafood was flown in fresh daily from all over the world. While this did explain the cost, I was ready to sink my teeth into some more fresh Alaskan Halibut.
The menu said, Broiled or Grilled. I said to the waitress, may I get it deep-fried? It was a perfectly innocent question. She looked at me with that look. You know the one…she was thinking I obviously was not from around here. She said she needed to ask the chef.
In a few moments, she returned. She said the chef said…"we can, but why would you want to." I was shocked. I had really loved this dish in Alaska. So I asked her to please proceed with deep frying my halibut and I would deal with the finished product. She reluctantly agreed.
When the finished product was produced, it was a beautiful golden brown piece of fish. Looked right, smelled great. When I cut into it, it was clear, this was all I had hoped. It was great. The waitress returned to ask how it was and I glady reported it was fantastic and told her they should consider putting it on the menu. She explained that they had fried fish on their menu, but it was normally a less expensive fish than halibut and was primarily on the kids menu. My boss snickered of course.
So it is official, I am a kid at heart. It is also official, I love fried halibut and Alaska. I have so much for which to thank Alaska! Fried halibut is only one. 🙂
There are some medicaments for many cases. At present there are varied medicaments to treat schizophrenia, anxiety upset or facial dermatoses. For instance Lasix is a loop water pill that allowing the salt to instead be passed in your urine. However, you should not take Lasix if you are unable to urinate. Typically, if you have lost the desirability to a particular partner, medicines like Cialis to improve potency is unlikely to help him back. Many health care providers think about cialis daily dosage. What consumers talk about ? Other matter we are going to is . Perhaps you already heard about the matter. Finally, there are some of possible explanations and soundness care professionals are always able to pinpoint your problem through biological tests. Certainly you must take all side effects in consideration before purchasing any drug. Sure thing, you and your physician must choose if Cialis or another curing is appropriate for you.