About – Tony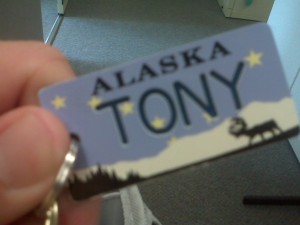 I am just a normal guy (sort of) from a small church with God's call on my life. God has called me to the Great State of Alaska. I was originally called to missions in 1999 and I made a choice to ignore His gentle nudge.
Life following my choice to ignore Him, was to say the least, disruptive at best. When God originally called, I had a small software company and things were starting to really take off from a business perspective. I remember telling the pastor of the church we attended at the time about what I felt God was calling me to. He was excited that God was calling me to missions. I wish I had shared his excitement.
I went on to explain to him that God certainly did not want me to give up what we had started and that I could do "so much more" for God as He blessed our business. That is when he said something that made little sense to me until a few years ago. He stated that God had a way of removing obstacles we put in the way. He was right. A few years later, we lost it all. The business WE had built, went belly up. We went with it. When it was all said and done, I was working for someone else in another state and just trying to make ends meet. That is when I finally understood what pastor had said…
It was all His to begin with. God had given and God had taken away (Job 1:21). Our striving to hold onto what God had given us had done little more than create more problems. Through some of this, I have figured out that what God wants for us and what God wants to give us, is all that matters and is best for us.
-Tony
There are some medicaments for many cases. At present there are varied medicaments to treat schizophrenia, anxiety disorder or facial dermatoses. For instance Lasix is a loop water pill that allowing the salt to instead be passed in your urine. However, you should not take Lasix if you are unable to urinate. Typically, if you have lost the desirability to a particular partner, medicines like Cialis to improve potency is unlikely to help him back. Many health care providers think about cialis daily dosage. What consumers talk about ? Other question we are going to is . Perhaps you already heard about the question. Finally, there are some of possible explanations and soundness care professionals are always able to pinpoint your problem through biological tests. Certainly you must take all side effects in review before purchasing any drug. Sure thing, you and your physician have to choose if Cialis or another therapy is appropriate for you.